This blog will explain about the S4HANA custom code migration FIORI app. Questions that will be answered in this blog are:
How to set up the S4HANA custom code migration app?
How to run the S4HANA custom code migration app?
How do the results of the S4HANA custom code app look like?
Activation of the S4HANA custom code migration FIORI app
The custom code app official specification can be found on the FIORI reference library.
First make sure the basis setup of embedded FIORI in general are done on your S4HANA system. See this blog for background.
And make sure the ATC settings for S4HANA code migration are done. See this blog for background.
Next step: in transaction PFCG create a new role (for example Z_CUSTOM_CODE_APP). Add catalog SAP_BASIS_TCR_T as a launchpad catalog: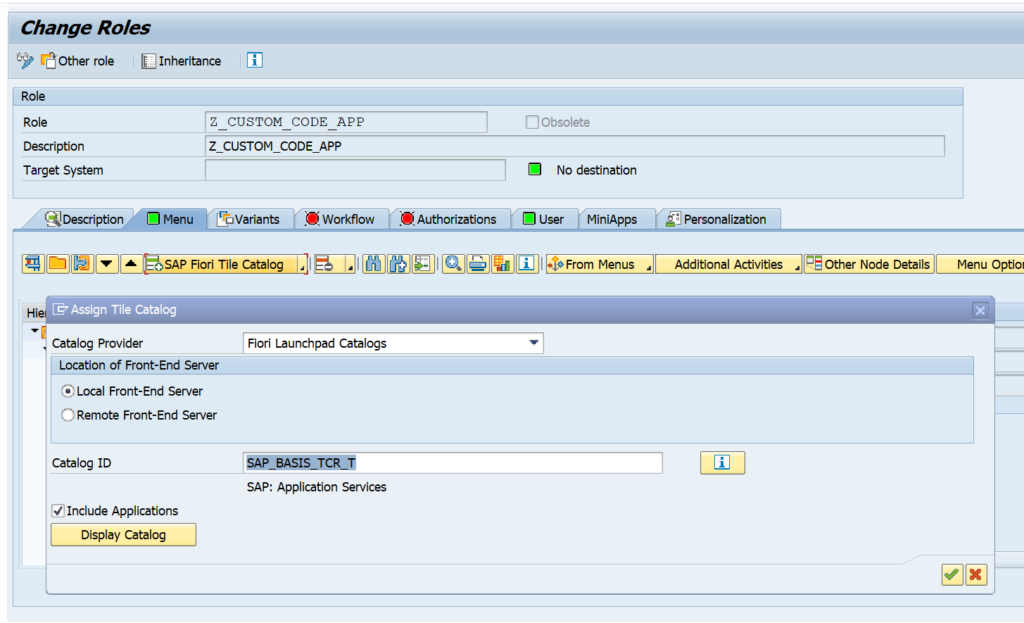 Save and activate the role. Assign the users to the role.
In transaction /IWFND/MAINT_SERVICE add the following services (and activate them):
| | |
| --- | --- |
| Component | External Technical Name |
| Custom code migration projects | SYCM_APS_C_PROJECT_CDS |
| Analysis of SAP S/4HANA custom code check findings | SYCM_APS_C_ATC_FIND_ALP_CDS |
| Custom code scoping by request entry points | SYCM_APS_C_SCP_BY_EP_CDS |
| Custom code scoping by packages | SYCM_APS_C_SCP_BY_PK_CDS |
In transaction SICF activate the following nodes:
NW_APS_CCM_PRJ
NW_APS_EXT_LIB
NW_APS_LIB
The core activation actions are now done.
Start transaction /UI2/FLP to start the FIORI launchpad. You will not find the tile. Change the homepage and add the following tile from the catalog: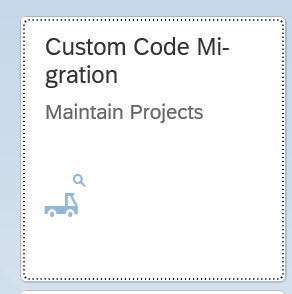 Before starting, make also sure that in ATC setup the RFC object providers are setup:

You can name the ID, description and group ID the same if you want. Make sure to use RFC destination none.
Creating a project in the app
Now you can start creating a project in the app. Click on the + symbol to add a project;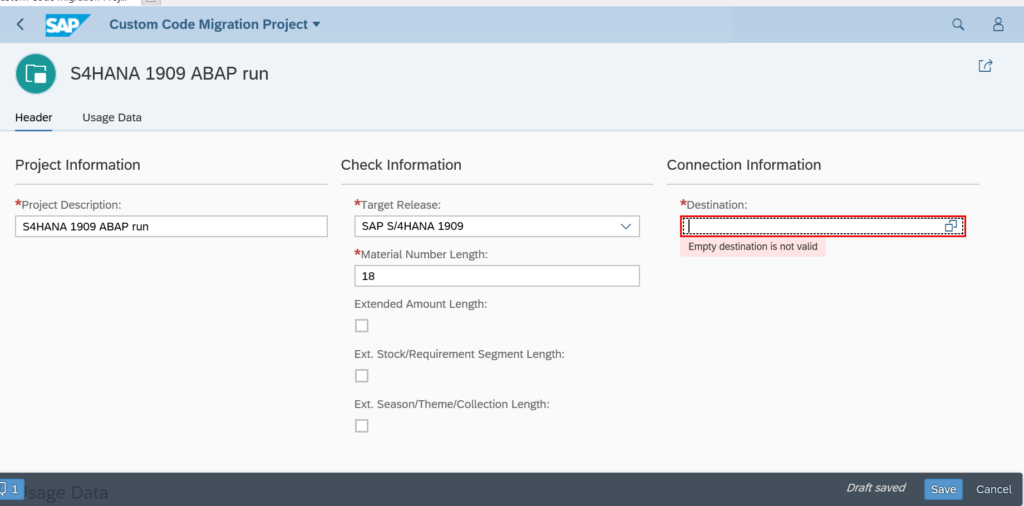 In the destination fill out the system you have put into the ATC object provider configuration. Than save the project and let it run. In the background the full ATC check is now carried out. This can take some time. You can refresh the project to see the status: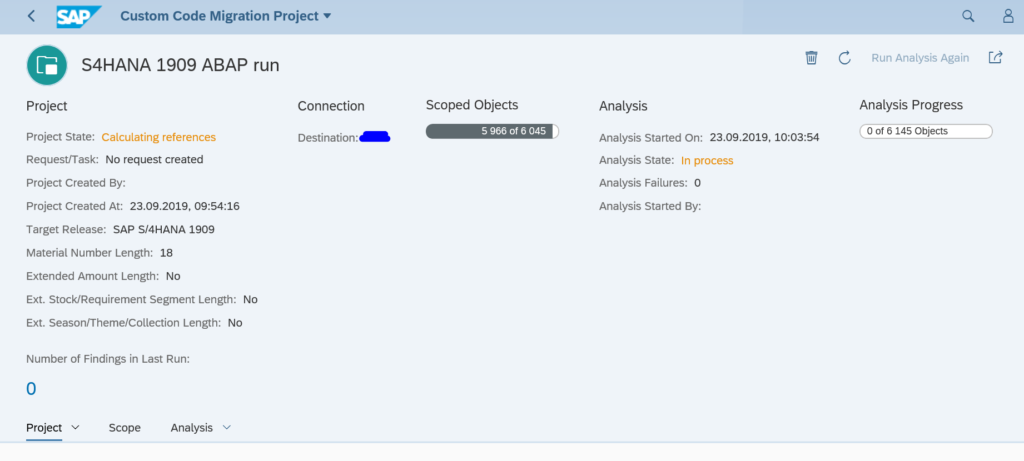 Analyzing the results
When the run is done, you can now analyze the results on the Analysis tab: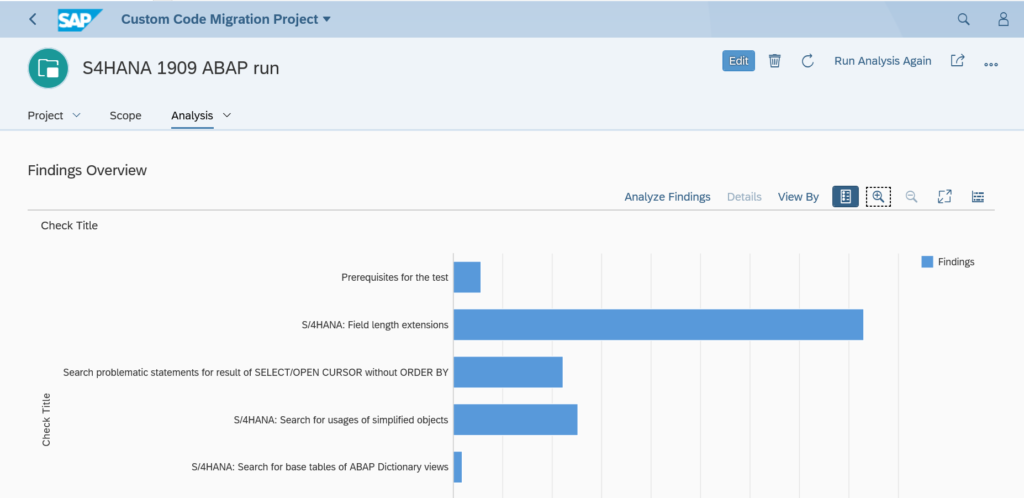 Important here is that you have to press the Analyze Findings button to go into the detailed analysis overview: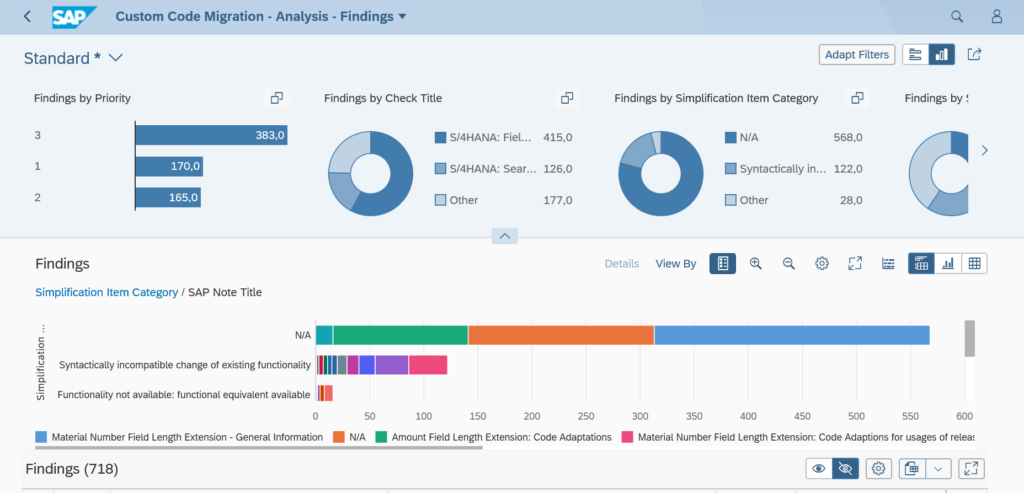 On the top are the graphical overviews. In the bottom is the detailed list:

You can use the download to excel button for further processing.
During the custom code clean up you can redo the same project, by rerunning the analysis. Or you can decide to run a new project.
Including usage data from productive system
You can also add actual usage data from a productive system in the custom code management app. See this blog.
Known issues and bug fixes
For UI bugs check OSS note 2809550 – Custom Code Migration App – Correction bundle for S/4HANA 1909.