This blog will explain options and tools you have for S/4HANA sizing for both new installations as well as upgrades.
Questions that will be answered are:
How can I execute S/4HANA sizing?
How do I execute the memory sizing for upgrading existing ECC system on non-HANA database to S/4HANA?
How do I execute CPU sizing for S/4HANA?
How do I execute disc storage sizing for S/4HANA?
Executing S/4HANA sizing
For both greenfield and existing ECC systems the SAP specific quicksizer for S/4HANA can be used: S4HANA quicksizer, then launch the tool from that page:

For existing system you can pull data from existing system for greenfield you have to take either existing numbers from legacy system or input from project them.
The term quick sizing can be bit misleading. The tools is nowadays pretty advanced and requires quite some input.
How to fill the quicksizer is explained in OSS note 2467172 – How to size Fiori applications based on number of users.
Memory sizing for upgrading existing system
SAP has delivered a tool to help in sizing memory for S4HANA for upgrading an existing system. In your current ECC system you need to apply OSS note 1872170 – Business Suite on HANA and S/4HANA sizing report. This will deliver ABAP report /SDF/HDB_SIZING. You test this on development system and transport it to production for productive run.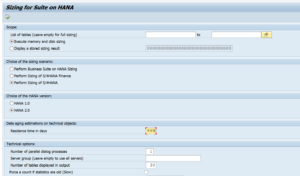 Best to run this in background. You can then get the results in the spool of the batch job.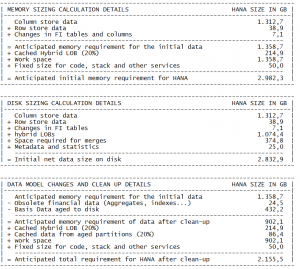 The results give an as good as possible estimation of memory sizing after the database conversion.
CPU sizing for S/4HANA
More details on CPU sizing can be found in OSS note 1793345 – Sizing for SAP Suite on HANA.
Disc space sizing for S/4HANA
Disc space storage sizing for S/4HANA can be found in extensive document on SAP site.
OSS notes
Before running the /SDF/HDB_SIZING program it is best to update it with the most recently available updates: 3104284 – HANA memory Sizing report – Advanced correction 15 or higher and 3149498 – HANA memory Sizing report – Advanced correction 16.