This blog will explain on the use of the CDMC toolset you can run analyzing your custom code, before starting upgrade or support package.
CDMC toolset
Start transaction CNV_CDMC to goto the CDMC overview.
Goto ad hoc analysis: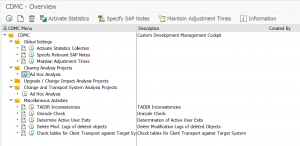 Start SAP modification run

Wait for run to finish. If done, click the Display Results.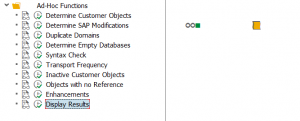 View results:

Setback of the modification overview: also OSS notes are marked as modifications.
Other useful runs: Syntax check and Inactive customer objects.
If you run these checks before an upgrade you can save quite some annoying issues during the upgrade itself.
OSS notes
Relevant OSS notes: