This blog will explain about the SLAW2 tool as successor of the SLAW tool used for license measurement consolidation. For background information on SLAW tool, see this blog.
Questions that will be answered in this blog are:
How to technically activate SLAW2?
How to setup system master data in SLAW2?
How to consolidate user measurement data in SLAW2?
How to use the SLAW2.0 information system?
Differences between SLAW and SLAW2?
SLAW2
Depending on your system, when you start the SLAW transaction, you might be mandatory routed to SLAW2.

In this case you are forced to use SLAW2.
Basic activation of SLAW2
Before you can use SLAW2 web part you have to enable the corresponding SICF nodes:
SLAW2 system settings
If the basic activation is done, start SLAW2 by using the transaction SLAW2. This will open the SLAW2 start screen: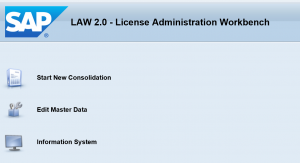 In the master data you start first with checking the already present systems (if you were using SLAW before) or adding a new system.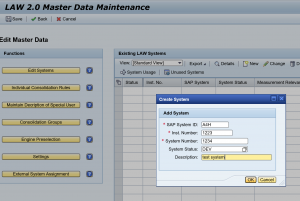 In this screen you can also go to the general SLAW2.0 settings: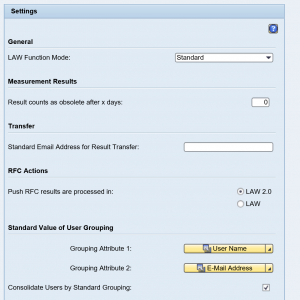 Running the consolidation in SLAW2
The basic principle of SLAW2 and SLAW are the same. The buttons are in different place. SLAW2 is helping you in bit more fancy roadmap style.
If your system data is properly set up, you can select the Start new or Change Consolidation button in the start screen:

The roadmap on top shows in which part of the process you are.
You can show the results and start the Combine Users process.

Next step is the Consolidate users step: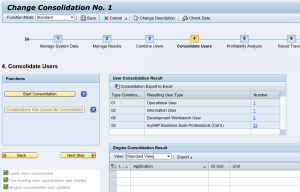 As last step you can see the results and submit to SAP.
In contrast to the old SLAW, the consolidation is done. If you want to repeat, you have to create a new consolidation.
SLAW2 information system
On the start screen of SLAW2 you can go to the LAW2.0 information system.

From here you can create lists and filter them. The results can be exported to excel for further processing, analysis and clean up.
SLAW versus SLAW2.0
The features in SLAW2.0 and SLAW are basically the same. The positives of SLAW2.0 are the information system and roadmap support. The old SLAW is easier if you have more iterations in cleanup.
As said before, depending on your version, SAP forces you to use SLAW2.0.
License measurement tips & tricks
For license measurement tips and tricks, read this dedicated blog.
LUI License utilization information 
The LUI (license utilization information) tool is an online SAP tool that has all the information on your on premise and cloud licenses information combined. For cloud the usage is automatically visible. For on premise systems you can upload the usage via the SLAW files. This can give you insights into under-consumption and over-consumption of licenses. Read more in this blog.
Relevant OSS notes
If you are facing bugs or issues, you can check these OSS notes: