This blog will explain how to activate the SOAP runtime inside the ABAP stack. This is a mandatory step before you can set up web services in transaction SOAMANAGER.
Questions that will be answered are:
What steps are required for the setup?
How can I check if the setup is done properly?
What are potential issue solving actions?
What other tools are available?
Setting up the SOAP runtime
Setting up the SOAP runtime is extensively explained in OSS note 1043195 – Configuration of Web service runtime. The basic steps below have to be repeated twice: first you execute the actions in client 000, then in the main data client again.

Start transaction SRT_TOOLS for reaching the main tool set: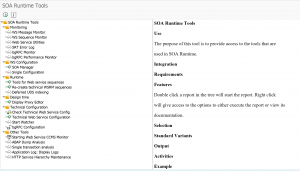 In the Technical Configuration section select the tool for Technical Web Service Configuration. This will bring you to the main activation program: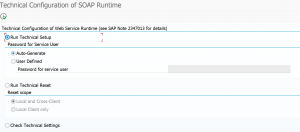 Hit Execute to start the automatic configuration. For more information see OSS note 2347013 – Configuration of the ABAP Web Service Runtime with transaction SRT_ADMIN.
In case of issues with the creation of user DELAY_LOGON, check this OSS note:
2848763 – Creation of DELAY_LOGON user using SRT_ADMIN does not work reliably.
Checking the configuration
To check if is ok go back to the main screen and select the Check Technical Web Service Config tool. This is the start screen: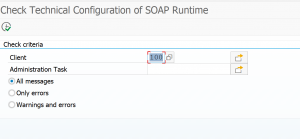 Start the check. Result should be like screen shot below: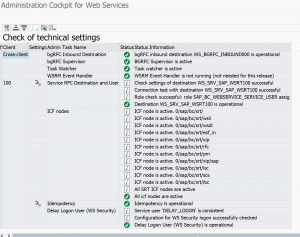 For the background jobs check OSS note 2231932 – ESI – How to schedule the SAP_SOAP_RUNTIME_MANAGEMENT standard background job.
Issue solving during setup
During setup things might go wrong. If you run without SAP_ALL, please check the notes that you have sufficient authorization. In the process both a background user (SAP_WSRT and DELAY_LOGON) and RFC (BGRFC_SUPERVISOR) are created. If you don't have authorization for that, issues will happen.
Use transaction code SU01D to see if the users are created properly with the correct roles.
Use transaction code SBGRFCCONF and check the last tab that the supervisor destination is assigned. In systems with CUA there might be an issue with creating the supervisor destination. In this case follow the steps of OSS note 2775490 – Error in customizing while creating supervisor destination.
Issue solving program (run in SE38): WSS_SETUP.
Issue solving transaction: WSIDPADMIN.
Issue solving after setup
If you have issues after setup, run the above check tool via SRT_TOOLS, or directly via transaction SRT_ADMIN_CHECK.
Common root causes: changes in authorization, overzealous user admin deleted SAP_WSRT or DELAY_LOGON user, or somebody deleted the supervisor RFC destination, etc.
SOAP consistency check: see oss note 2353589 – Consistency Check for Soamanager.
Consistency check for Business application ID: see oss note 2347852 – Consistency check for usage of Business Application Id within Web Service Configuration.
Other notes:
SOAMANAGER and issue solving
In SICF activate the services /sap/bc/srt and /sap/bc/webdynpro/sap/appl_soap_managements.
After the steps above and the general activation, the transaction SOAMANAGER should start up properly.
If you have issues with SOAP webservices, you can check the reference OSS note 2553979 – SOAP Web Services ABAP – Guided Answers.
The generic troubleshooting note for security issues is 2321968 – SOAP Web Service Security Troubleshooting.
Issue solving tools are described in OSS note 3038290 – Tools for analyzing problems in Web Service framework.
Other testing issues:
Other tools
The SRT_TOOLS transaction also lets you jump to other useful tools such as the WS message monitor and the web services utilities tool.
Webservice issues after system copy and other system changes
After a system copy you might be confronted with data inconsistencies. Upon start of SOAMANAGER you might get this screen: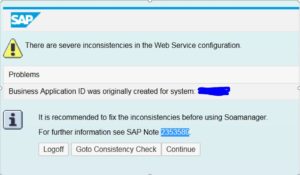 Follow the instructions from OSS note 2353589 – Consistency Check for Soamanager. It might mean you need to run program SRT_WSP_INITIALIZE_WS_CFG to re-initialize the complete setup and reconfigure all the webservices again.
Background: 2348042 – Web Service Configuration and system copy/refresh, and 3263624 – ESI – SOAMANAGER error: Read error in secure link ID.
In case of host name changes read OSS note 3235977 – Implications on Web Service Configuration in case of hostname change.
Removing a system from the configuration, read OSS note 3238552 – Removing a system from a local configuration.
Related bug fixes:
Retention of SOAP messages
Start transaction SRT_UTIL to go to the Web Service Utilities screen. From the menu now select the option Tools, Global Configuration. Here you can set the retention times (in days) to keep the SOAP messages: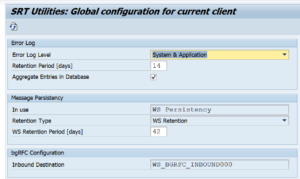 OSS notes 2611962 – WS retention period and 3024345 – ESI – How to change the retention period for Web Service messages contain the background.

If table SRT_MMASTER is growing fast, it is time for clean up of web service data: see OSS note 2231932 – ESI – How to schedule the SAP_SOAP_RUNTIME_MANAGEMENT standard background job.
Idoc webservices
Some web services will use idocs. To use this feature basis first needs to enable this option by registering this service.  This registration is performed via transaction SRTIDOC.
Bug fix and explanation notes SRTIDOC:
SAP background wiki
Please follow this link to the SAP background wiki on basic SOAP runtime activation.
Activating web services
Oss note 2175422 – Web service provider configuration in transaction SOAMANAGER [Video] contains an excellent video with all the step to activate and configure a web service on the ABAP stack. See also this blog on how to convert any remote function module into a web service. And this blog on how to consume a web service in ABAP.

Use of logical ports is explained in this OSS note: 3237511 – Using default logical ports in Web Service scenarios.
Monitoring web services
For more information on monitoring web service message read this dedicated blog.