This blog will explain on how to setup a CTS project.
Questions that will be answered are:
How to setup CTS project?
How to test if CTS project can be used in SE10 transports?
Set up of CTS project
Start transaction SPRO_ADMIN.

One TEST project is already created. We will now create new project TEST2. Hit the create button and give the project a technical name:

In the overview screen you now can give a long description name: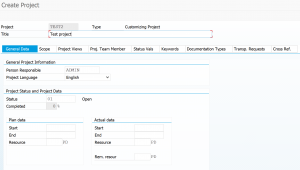 Goto the Transp.Requests tab to activate the CTS functions (save first is required):

Alternative way of creating the project for CTS only is via SE38 program RSWBO_AUX_PROJECT.
Testing the project
To test if the project is created correctly go to SE10 and create a transport. The project should be visible now:

Bug fix OSS notes
Relevant OSS note: